South Rillito Interceptor

The RWRD's South Rillito Interceptor (SRI) is another major interceptor with additional capacity that runs along the south side of the Rillito River, parallel to the NRI. The SRI rehabilitation project begins in an area near Columbus Boulevard and runs west for 3.9 mile along the south bank of the Rillito River to the intersection of Roger Road and Tucson Blvd.
Construction will be completed in three phases. Please note that while these construction plans are number 1 to 3 from west to east, actual construct of the SRI will begin in the east and move westward.
Click any of the maps on this page to download/view a PDF version with greater detail.
Phase 1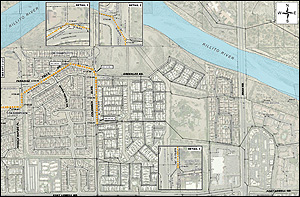 This phase will be bounded on the north side by the Rillito River, on the east side by N. Columbus Blvd., on the south side by E. Fort Lowell Rd., and on the west side by N. Alvernon Way. The anticipated time frame for Phase 1 will be from January 2014 through May 2014.
Phase 1 Map (SRIWC #3) »
Phase 2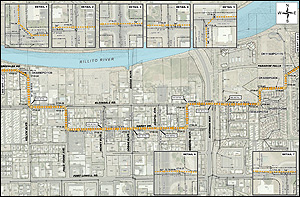 This phase will be bounded on the north side by the Rillito River, on the east side by N. Pebble Rapids Place, on the west side by N. Country Club Rd., on the south side by E. Hardy Dr. The anticipated time frame for Phase 2 will be from May 2014 through October 2014.
Phase 2 Map (SRIWC #2) »
Phase 3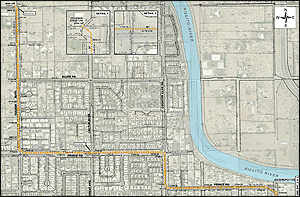 Work will begin in mid-April, 2014 and is expected to be complete in September, 2014. Phase 3 work is in an area bounded by Country Club Road to the east, Roger Road to the north, Tucson Boulevard to the west and Ft. Lowell Road to the south. The contractor plans to work west from Country Club Road.
Phase 3 Map (SRIWC #1) »